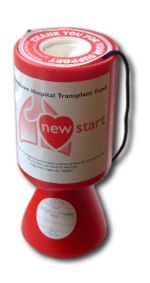 Collection tins are a reliable and significant part of the funds raised for New Start throughout the year.
We have many volunteers who place collection tins in their local community and send the proceeds to New Start 3-4 times a year. Example of the sorts of local businesses that host collection tins are:
* Local pubs, clubs and entertainment venues.
* Local G.P.'s, Chemists and Health Centres.
* Local Gyms, Leisure Centres and Healthclubs.
* Local shops and businesses e.g. hairdressers, bakers etc.
Circulating collection tins is a great way to help New Start raise funds and can be managed with only a small amount of time input
If you can help support New Start by placing a collection tin at your community then please contact Lynda Ellis.