MEET OUR SOCIAL WORK TEAM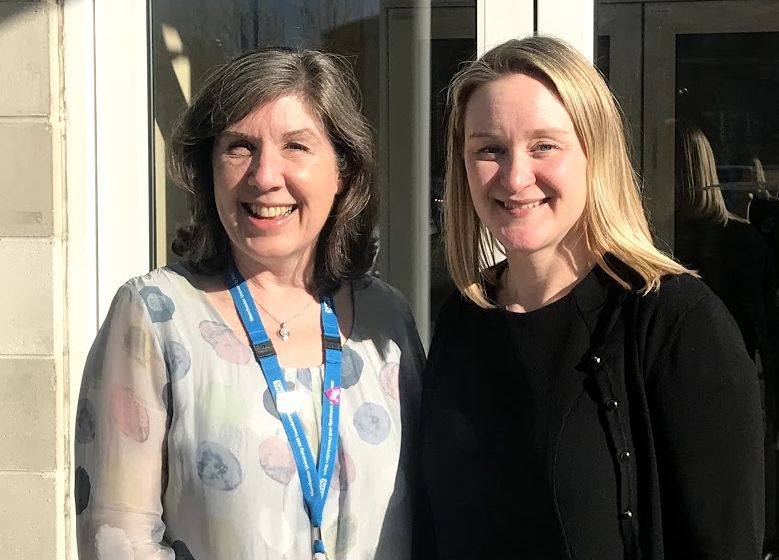 We are happy to welcome Laura back to the social work team following a period of maternity leave and having a healthy and happy baby girl. Laura has worked as an adult social worker in the community for over 10 years and was appointed following Jan's retirement.
Bev has worked as a social worker on the Transplant Unit since 2008 having previously worked on the Haematology and Transplant Unit at the Christie Hospital.
Previously, Jan provided support to heart patients and Bev to lung patients however both Laura and Bev now provide equal support to heart, lung and VAD patients along with their families.
The social workers provide advice, information and support with both practical and financial issues. Emotional and psychological support is also offered to patients and their families following transplant/VAD.
We have an open door policy and are very happy to see people at anytime about any issue causing concern. We will always try and help or signpost to the most appropriate service. Appointments can also be made.
Bev works Tuesday – Friday and Laura works Monday, Tuesday, and Fridays
'VIRTUAL' PRE-TRANSPLANT SUPPORT GROUP
We hope you and your loved ones are keeping well in these difficult times.
Sadly we have been unable to run the Pre-Transplant Support Group in person due to COVID restrictions. We would, however, like to trial a 'virtual' group if that is of interest. The Group would run monthly between 10 and 11am on Friday morning (dates to be confirmed). We aim to keep the same format by inviting different guest speakers connected with transplant to talk and take questions/open discussion.  We aim to run the group through Microsoft Teams in line with Hospital Policy.
Provisional Dates for 2022 are below: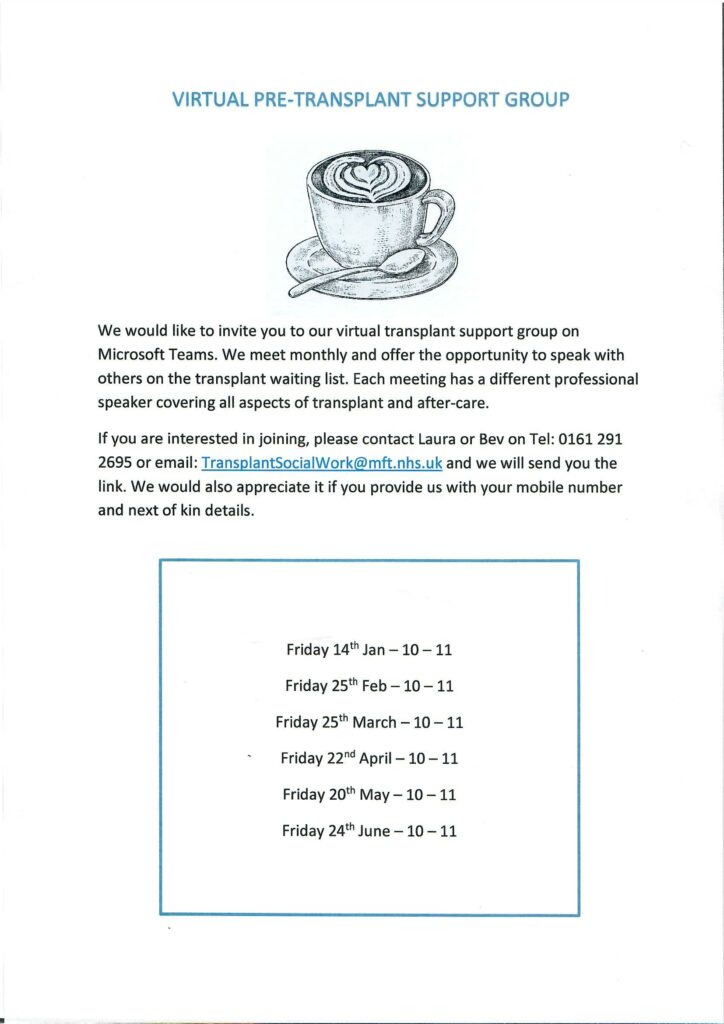 If you are interested in attending sessions remotely, please forward your mobile number, email address, next of kin contact number and location of where you will be participating from (if different to your home address) to us at TransplantSocialWork@mft.nhs.uk or telephone us on Tel: 0161 291 2695. We do need your email Address so we can send you the link
We look forward to hearing from you,
To make an appointment for anything else please contact us on 0161 291 2695.