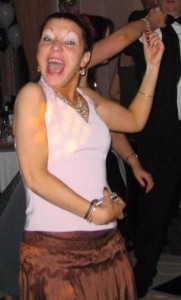 What the majority of people take for granted I had never experienced for the first 36 years of my life… that's BREATHING easily, without having to think about it and without having to struggle.
My name is Elaine Betts and I was born in 1970 with a genetic disease called Cystic Fibrosis but this fact wasn't discovered until I was 3 years old. I don't quite know how I have managed to survive for this length of time not because of my CF but because I am so sarcastic.
I had a fantastic childhood due to the love, care and devotion I received from my family. I have been very lucky in life because my mom, dad and brother have always supported me and encouraged me to do things that other people think are impossible subsequently I have managed to have quite an interesting, entertaining, challenging and positive life.
My family regretted the way I had been brought up as my health deteriorated because everyone wanted me to take it easy but I continued to push myself to the full…all I can say is they brought it on themselves!
All of my life I have fought the Cystic Fibrosis challenges, always being under weight, requiring numerous nebulisers, inhalers, tablets, physiotherapy twice a day and intravenous drugs (I.V's) to name just a few. When I was 3 years of age my parents were told I wouldn't live to reach my 7th birthday… how wrong were they! I was a happy child despite my illness and as you can see from the picture I was never a fashion guru but liked to have fun!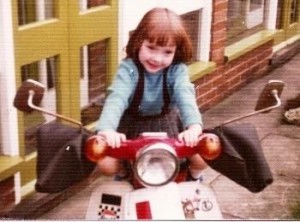 Throughout my childhood my parents were determined that we would have a normal family life and CF was just something we all learnt to accept. This couldn't have been easy for my family especially with all of the hospital visits but I never remember anyone complaining.
I attended school just like all of the other children despite the teachers being nervous about having a child at school who carried so much medication with her. My mom fought my corner and ensured I was treated like every other child. Going to my friends' birthday parties was always entertaining because in the olden days CF people couldn't eat fatty foods and low fat didn't exist (remember I was a 70's baby) so I became known for taking my own jam sandwiches to all parties and never eating cakes, chocolate or ice cream.
At six years of age I took up ballroom, disco & Latin American dancing and gained all of my dance medals but by the age of eighteen I discovered pubs and night clubs so my medal dancing days ceased and the party animal was born.
By 1986 the food rules had changed for CF people and I entered into the world of fattening foods and the "eat as much fat as possible" diet which I came to loathe within the first week. What made the fat diet even more traumatic was the fact that I never appeared to gain any weight despite numerous efforts by the dieticians… I was now known as the Jaffa girl as I ate so many every day.
At sixteen I left school I entered full time employment, attended night school to gain additional qualifications and became a diabetic (thankfully this reduced the amount of chocolate in my fattening diet). To this day I am still studying as well as working full time.
In 1989 my medical care transferred to a specialist CF unit at Heartlands hospital who had the difficult job of keeping me alive whilst I continued to work full time and refused to take things easy, there's nothing quite like a difficult patient to make life more interesting!!!!!.
vIn October 1993 I had my first transplant assessment at Wythenshawe Hospital, at this time I thought I was too well for a transplant and the doctors agreed. I told them I wouldn't need a transplant for another ten years; little did I know how right I would be.
In 1995 I was put on the active transplant list which was very scary but then after eight months my health stabilised. I was 'frozen' on the transplant list, which means they wouldn't look for a donor but would closely monitor my health and as soon as it started to deteriorate again I would go back on the active list.
In about 2000 my I.V drugs started to become more regular and so I found a way to continue to have a life and manage the drugs. I used to take my I.V's into work and administer them whilst I was working in Training and Development. At first people were shocked and didn't know how to respond but it didn't take them long to accept me, my madness, sarcasm, very loud laugh, loud personality, my drugs and my needles. I even managed to go the gym whilst I was on I.V's (this is the new modern term called multi tasking).
In the meantime I continued to make the most of my life, In September 2001 I went in a helicopter and flew over the Grand Canyon, it was awesome.
In July 2002 I had another transplant assessment.
This was the real start of my decline but life went on, determined to fight the battle and with my strong, positive, attitude I took my oxygen cylinder to the gym. It's amazing how people suddenly avoid you when you have oxygen and the look of horror and disgust on their faces is priceless, but I didn't care all I wanted to do was to keep my muscles strong so that I had a better chance of surviving and recovering quickly from a transplant if a donor was found. Because I am so tiny the transplant team were having problems finding a suitable donor but I wasn't ready to die yet, I still had so much to do and so much sarcasm left inside that needed to be shared with the world.
In March and April 2006 it became clear that I had very little time left, one night I woke up in the early hours of the morning bringing up huge amounts of blood. I was admitted to hospital where I discovered a new word for my dictionary – haemoptysis (bleeding of the lung vessels). The doctors managed to stop the bleeding but throughout this period of time I had three episodes of this terrifying experience and they all happened at very inconvenient times but when I look back I don't suppose any time would have been convenient.
It was at this point that I realised it was time to talk about my final days, so I set to work making sure everyone was clear about my wishes which was very traumatic for everyone but I'm always a realist.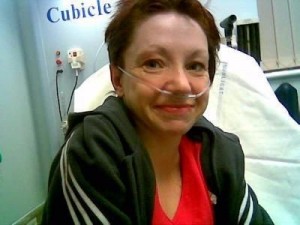 Luckily for me a donor was found, on the 29th June 2006 I received the much awaited call. It's strange but I didn't panic when I got the call I just felt relieved that at last my pain and suffering would be over one way or another. The funny side of this story is that I had spent all day applying false tan, going to the hairdressers and painting my nails in preparation for my friends wedding the following day, when I got the call I was just about to apply the diamantes to my nails. I was consistent right to the end, when I entered the theatre at 2am on 30th June I didn't look the usual sick transplant person I just looked GORGEOUS complements of my day's beauty work.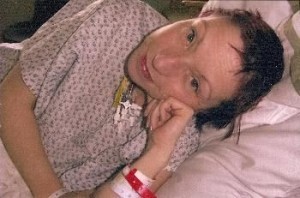 So after a three and a half year wait I finally had my life changing double lung transplant. The first thing I remember after the operation was opening my eyes and seeing my mom, dad and brother, I was so happy to get the chance to see them again and squeeze their hands. I remember thinking, even if I don't make it through the next stage at least I got the chance to open my eyes and see a different world. If anyone is considering having a transplant the only thing I will say is that you have really got to want to survive and be willing to put in the effort and hard work that is required for success.
The transplant has completely transformed my life, it's now truly amazing. Yes I still have a lot of medication, suffer from side effects as a result of the medication I now take but I don't cough, don't need oxygen or I.V's, I can walk, breath and I love food. I'm still the mad, crazy person I was before but I think I may have some of my donor's traits.
I was never creative before my transplant but during my recovery period I took up card making and it's terrific, I find it very relaxing, I have swapped buying clothes for buying card making materials, the space in my bedroom where my drug fridge used to be is now a card making wardrobe, what a transformation. Before my transplant I was always early for appointments etc and got really annoyed when my friends were even one minute late, now I'm always late which again my friends find very entertaining, how the tables have turned.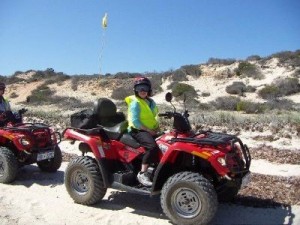 I am now trying to catch up on lost time, as you look at the photo's notice the weight gain!!!!! I have been quad biking, which I loved so very much. Dancing until 3am in the morning without even coughing.
My new lungs and I went on our first holiday together in Cyprus ten months after my transplant.
I go to the gym several times a week, my instructor remembers me from when I used to take my oxygen – do aerobics and body combat classes which I have never been able to do before and can now do the breathing exercise just as good as everyone else in the class.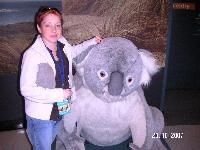 To celebrate my new lease of life and to have yet another new experience, just eleven months after mytransplant, I completed the BUPA Great Manchester 10km Run to raise money for the Wythenshawe Transplant Fund New Start Charity, don't be too impressed I only walked. My friend carried all of my medication to cope with the challenges my diabetes throws at me and to provide encouragement. It took me 1 hour 51 minutes and 20 seconds to complete but out of 28,000 people, my finishing position was 20,994, so at least I didn't come last.
The following day I experienced a lot of pain in my lungs and back and spent the afternoon in bed, it took me three months to recover but despite this I can't wait to do it all again, hopefully improve my results and walk/run quicker.
Having never been able to do anything like this in my life proves that transplants really do change people's lives.
Shortly after this experience it was time for me to return to work, I now work full time and plan to start a CIPD HR degree in February 2008
To celebrate my first anniversary I planted an Oak tree in memory of my donor at the National Memorial Arboretum and designed a plaque contain a picture of a set of lungs http://www.thenma.org.uk

Sixteen months after my transplant I went to Australia for three weeks, I had to reduce the amount of items I took with me because I had to make sure I had room for the 1800 tablets, after all my health must come before my looks and style!
I had a wonderful time with my family, walking, quad biking, flying kites, bowling, touring the cities, not getting tired and having as much fun as possible. It was an experience I never imagined would be possible and one none of us will ever forget. The nine flights we did whilst touring the country were fantastic, the only thing that hurt was landing but the pain only lasted a few minutes and seemed irrelevant compared to the fun I was having.
I never knew breathing was so easy and I thought life was fun before but now it's beyond words. Its very strange now as I seem to be putting on weight compliments of the steroids so for the first time in my life I am trying to eat healthy low calories foods, this is the biggest thing I have had to get used to and still get a shock when I see my fat face in the mirror, but this is just a very very small price to pay for living a fun thrilled, cough free, energetic life…
Life is just FANTASTIC.
So where ever you are and what ever you are doing, appreciate the people around you that are trying to help and support you, make the most of what you have got and enjoy life.
If you want to hear more about my life please contact the New Start office.
For more information about Cystic Fibrosis please visit the CF trust website
https://www.cysticfibrosis.org.uk/
To become a donor please visit the UK transplant website:
http://www.uktransplant.org.uk/ukt/default.jsp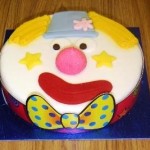 Now I have told you all about my amazing life it's time for you to go and create your own wonderful life, good luck and enjoy.This is my first anniversary cake to celebrate my double lung transplant.
Without donors my family and I would not have been able to enjoy this cake together.
Remember you are more likely to need a transplant than to become a donor.